Professionals Unwinding as Summer Sets In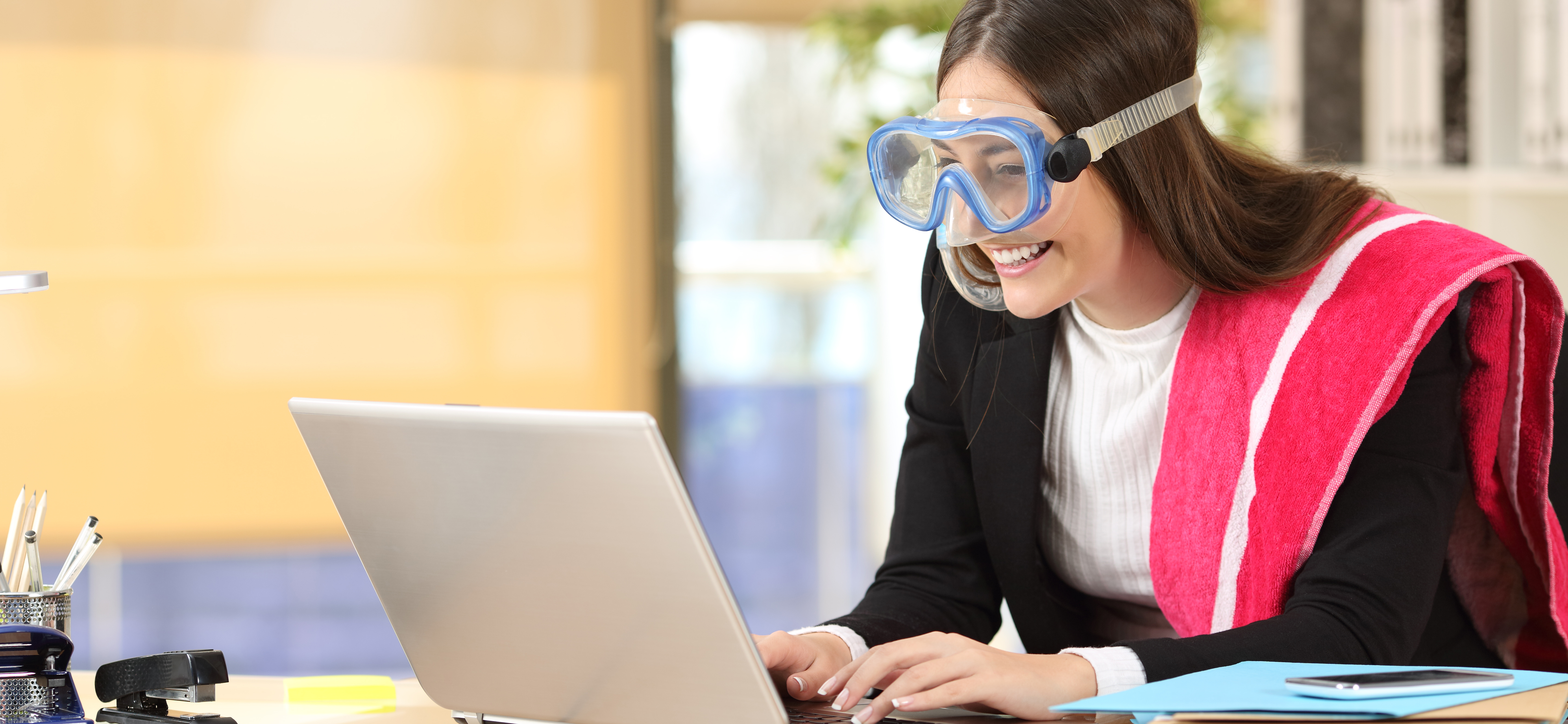 As the warmer days roll through the workplace, business professionals are catching summertime fever. For many white-collar workers, this time of year brings lighter workloads, less-restrictive schedules and a more relaxed office environment. Almost half of all business professionals (47%) said they were happier during the summer months than any other time of year, according to a new Office Pulse study.
'Summer-itis' is Spreading
Businesses should expect their workers to take some liberties when it comes to personal time at the office this summer. The most popular activities professionals expect to see around the workplace during the summer months are longer-than-usual lunch breaks (48%) and socializing with friends and co-workers (37%). More professionals are taking longer lunch breaks this summer compared to 2012, when an Office Pulse study found just 31.7% reported longer breaks.
What are the most popular summer lunch time activities for professionals?
Dining al desko (at the desk):

22%

Brown bagging it al fresco:

9%
Not surprisingly, business professionals will be plotting how they can maximize their time away from the office this season. For example, a third of professionals (31%) said colleagues will spend time at the office planning "sick days" strategically on Mondays and Fridays, while 28% of professionals expect coworkers to add personal vacations to business trips. 30% of workers said their peers will play hooky this summer, an increase from the 12.6% of workers who reported the same in 2012.
Don't be too surprised to catch workers slacking off at their desks. 16% of professionals expect their colleagues to spend time shopping at the office, and 8% said they will watch a movie/TV show at their work computer. An additional 8% of workers expect job hunting to be popular within their offices this summer, down from 11.5% in 2012.
Getting Off Easy
Workers reported that the most common "let it slide" behavior in the summer was slipping out early on a Friday (58%). So who are the Summer Friday culprits? 67% of Millennials left work early, compared to 57% of Gen Xers and just 49% of Baby Boomers. But those early departures didn't translate into late arrivals on Monday: just 19% were fine with coming in late on Monday.
Many professionals will bring the beach to the workplace this summer, but not all of them will get away with it. Other less-than-desirable habits that coworkers were willing to let slide included general lethargy (19%), poor grooming (16%) and beach hair (13%). But professionals must draw the line somewhere – barely 1 in 10 professionals said their office was willing to let a coworker get away with coming in tan after a "sick day" (9%). Only 9% would put up with a coworker's excessive perspiration.
What are professionals' biggest pet peeves during the summer?
Lack of availability of coworkers:
47%
Social media updates when 'working from home':
18%
Vacation TMI (e.g. posting too many photos):
16%
Quirky out-of-office messages:
13%
"Sent from my iPhone" during work hours:
14%
Professionals Are Getting Burnt
Business professionals' summertime habits may be catching up to them. 53% of professionals reported increases in distractions at the office during the summer months, while 27% reported increases in workload; That's up from 2012, when 43.8% of professionals reported an increase in distractions and 17.6% reported an increase in workload. Additionally, professionals reported decreases in attendance (19%) and productivity (17%). This seems to suggest that summertime at the office isn't always as easy going as professionals would hope for. Despite 47% of business professionals reporting upticks in happiness during the summer, 24% said their stress increased.
Bringing Summer to Work
58% of business professionals said their office doesn't offer any special perks during the summer. However, many professionals did report a variety of perks that were offered to employees.
What summer perks does your office offer?
| | | | | |
| --- | --- | --- | --- | --- |
| Casual summer dress code | | | Flexible work hours | |
| Telecommuting |   | | Beer/Wine/BBQ Fridays | |
Overall, professionals' satisfaction with summer perks was mixed: 35% said they were satisfied, 33% were neutral and 33% were dissatisfied. Millennials were the least satisfied with perk offerings, with 45% of them saying they were dissatisfied, compared to 28% for both Gen Xers and Baby Boomers.
Summertime Scrooges
Not all professionals are enthusiastic about summer perks:
| | |
| --- | --- |
| "It's just like any other time of year. We're not schoolchildren, why should summer be any different?" | "They do nothing to promote anything fun about summertime." |
| "I don't expect much, so I'm not disappointed." | "It's a BBQ. I could take it or leave it." |
Looking on the Bright Side
Many professionals appreciate summer perks for the flexibility
and social opportunities they bring to the office:
"I love the fact we get 2 days off to use as we want. Plus beer cart Fridays are always great."
"My work environment is pretty flexible year around so it's not specific to summer."
"Business as usual but in Texas, the heat makes people a little more on edge which means perks would be nice to beat the heat and make us happier employees."
"At least the building is air conditioned."
"Beer Friday is a nice way to interact with people you would normally not interact with."
About Office Pulse
Office Pulse by Captivate offers marketers timely analysis and insights from a proprietary panel of upscale professionals in the top markets. The Office Pulse panel of more than 8,000 influential consumers and business decision makers includes C-level executives, Millennials, middle management, small business owners, working women and working moms.
About Captivate
Known for its vast network of nearly 12,000 elevator displays located in 1,600 premier office buildings across North America, Captivate connects advertisers with 13 million unique monthly viewers through creative, research-driven and Nielsen-measured advertising and marketing programs. By engaging its viewers with timely news and actionable information that helps balance the personal and professional demands of the workday, Captivate provides advertisers with a highly desirable and difficult-to-reach audience of affluent and influential business professionals. Founded in 1997, Captivate is owned by Generation Partners. For more information, please visit www.captivate.com.