What's On Tap for Water Cooler Conversation?
One third of Canadian business professionals report catching up on television or sports during the workday.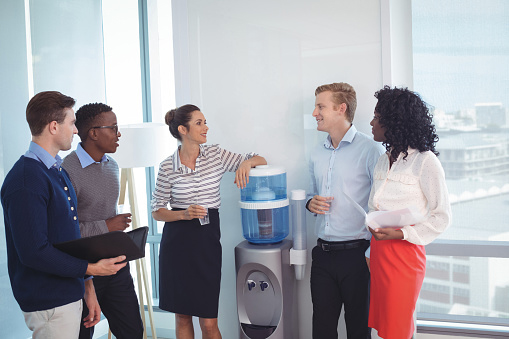 With so much television to choose from, many can find it hard to keep up with the latest episode of their favourite TV show. But many Canadian business professionals are turning to the workday to stay up-to-date on the latest binge-worthy show. Nearly one third (31%) of office workers report catching up on TV or sporting events during the workday, and that number grows to 44% when looking at just men.
Keeping Up With Must-See TV
Aside from sneaking in a quick episode, TV talk is all the chatter around the water cooler, as many professionals talk plot twists with their colleagues. "Game of Thrones" was the most talked-about show in Canadian offices, with just over a third (35%) of white-collar workers discussing it regularly. "The Crown," "Westworld," "Big Brother" and Toronto-filmed "Suits" were also popular among write-in responses. Even long-running "The Big Bang Theory" edged its way into the conversation, with 16% discussing it at work.
Which television shows are regularly discussed at your office?
The Bachelor/Bachelorette:
23%
Spoiler-Free Zone?
One drawback of TV talk in the office is the propagation of spoilers. No one wants to have their favourite show ruined or to hear the outcome of the big game. Respondents were pretty evenly split when asked whether they've ever had a show or sporting event spoiled by someone at work. A total of 45% have heard spoiler talk in the office, and that number increases for women (51%).
Percentage of people who have had a show or sporting event spoiled by someone at work
| | |
| --- | --- |
| Millennials | |
| Generation X | |
| Baby Boomers | |
A majority of Millennials reported having shows spoiled by coworkers, which is nearly two times the amount of Baby Boomers. Maybe this can be attributed to Millennials devouring more prime TV. Or perhaps this could be because Boomers are savvier when it comes to dodging spoiler talk? The most common methods of avoiding a colleague's conversation at the office include shushing (36%), leaving the room (28%) and covering your ears (17%).
Other insights include:



Junior staff were named as the biggest spoilers in the office (25%)

C-suite executives were pinpointed as the best secret keepers (25%)
Using Pop-Culture To Get Ahead
When speaking with a colleague or client, have you ever feigned interest in a TV show or sporting event to impress the other person?
Though the topic might seem frivolous to some, nearly a third of Millennials report using TV knowledge to connect with co-workers. Maybe keeping up with hit television is more productive than one might expect?
About Office Pulse
Office Pulse by Captivate offers marketers timely analysis and insights from a proprietary panel of upscale professionals in the top markets. The Office Pulse panel of more than 8,000 influential consumers and business decision makers includes C-level executives, Millennials, middle management, small business owners, working women and working moms.
About Captivate
Known for its vast network of 10,000 elevator and lobby displays located in 1,400 premier office buildings across the U.S. and Canada, Captivate brings life to work by connecting over 11 million unique monthly viewers to the world outside their office. By engaging its viewers with timely news and actionable information, Captivate provides advertisers with a highly desirable and difficult-to-reach audience of affluent and influential business professionals through creative, research-driven and Nielsen-measured advertising and marketing programs. Founded in 1997, Captivate is owned by Generation Partners and TEGNA.