You Can Still Burn Out While Staying In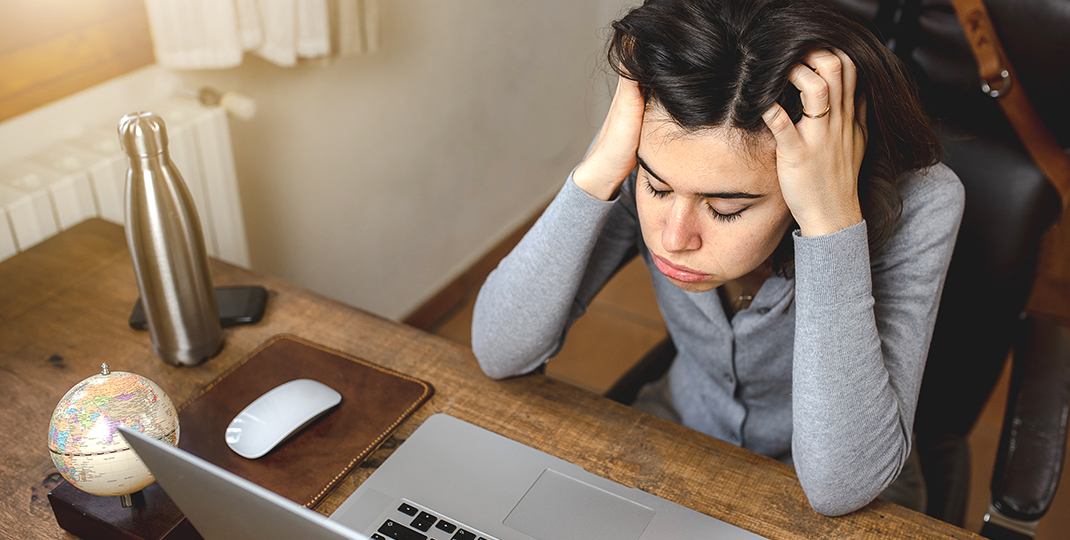 Since the pandemic began, more than 8 out of 10 workers have had their working situation changed. And while many people are hunkering down in their home offices, a majority say their ideal working environment still involves going into the office on a regular basis, according to an Office Pulse survey of 274 business professionals in the US and Canada.
Back in March, working from home felt like a divine indulgence. But now, more than half a year later, the novelty of sleeping in and snacking all day in your sweats has worn off. Workers are finding it hard to keep work and life separate when both are happening in the same space. In fact, more than half of American workers are more stressed about work than ever before.
Workers are finding it increasingly hard to shut off. While more than half of partially remote professionals say their work hours remain the same no matter where they are, 28% are logging longer hours when working from home compared to the office.
BLURRED LINES GO BOTH WAYS
As the workday dips into off hours, a good chunk of remote workers are interrupting their office hours with personal tasks. While working from home, 30% of workers report spending 1-3 hours during the workday on non-work tasks.
BUILD BETTER BOUNDARIES
"Maintaining separation between work and home" is the biggest challenge for partially or fully remote workers, followed by "remembering to take breaks" and "switching off."
What challenges have you experienced working from home?
Maintaining separation between work and home | 52%
Remembering to take breaks | 50%
Managing children, family, or roommates | 33%
Maintaining my regular exercise routine | 32%
Virtual meetings/telecommunications | 28%
There's a very fine line between working from home and sleeping at the office, and for many people, the lack of a boundary between home and office has become the issue. So really resetting the norms, the norms by which we work, in a world where commutes and cubicles have gone, and instead it's constant interruption, the kids are in the room, and so on—how do you create a boundary?…Having active dialogue in business around what that looks like so that it's acceptable and understood is vital. It's not happening enough 
Creating boundaries is one of the most important survival skills for remote workers. While you may no longer have a train to catch, you can recreate the commuting ritual by taking an evening walk or confining your work to a dedicated space in the home that you leave at the end of the day. Soon, you could even schedule a virtual commute using Microsoft Teams.
OFFICE BENEFITS
While click-happy headlines initially pronounced the death of the office space at the dawn of this pandemic, the pendulum has swung back to reality. More companies are realizing the short-term remote solution, while necessary in 2020, is not the ultimate answer.
Workers themselves are realizing the value of working in an office. 67% of workers surveyed say their ideal working environment still involves going to the office on a weekly basis. The top benefits of working in the office include easy communication, problem-solving and team building. On the flip side, networking was listed as the biggest sacrifice of working remotely.
What do you feel you sacrifice when working fully remote?
Despite the current situation, most professionals in the US and Canada would not take a pay cut to permanently work from home. Just 9% would sacrifice some of their salary to permanently work from home.
While the office is still a valuable space for workers to collaborate, problem solve and network, companies face the challenge of creating a safe space that workers will return to. 55% of fully remote workers do not feel safe going into the office right now, compared to 19% of partially remote workers and 16% of in-office workers.
Companies and office buildings can take simple steps to safeguard employees and tenants. Sanitizer stations, mask mandates, limited capacity and frequent cleanings would make professionals feel safer working at the office.
Which of the following would make you feel safer working at the office?
The pandemic has upended office life as we know it, accelerating the embrace of technology and killing the concept of open concept. But the office space is not dead – it's merely shedding its skin to evolve into a safe haven for culture and collaboration.
About Office Pulse
Office Pulse by Captivate offers marketers timely analysis and insights from a proprietary panel of upscale professionals in the top markets. The Office Pulse panel of more than 8,000 influential consumers and business decision makers includes C-level executives, Millennials, middle management, small business owners, working women and working moms.
About Captivate
Known for its vast network of nearly 12,000 elevator displays located in 1,600 premier office buildings across North America, Captivate connects advertisers with 13 million unique monthly viewers through creative, research-driven and Nielsen-measured advertising and marketing programs. By engaging its viewers with timely news and actionable information that helps balance the personal and professional demands of the workday, Captivate provides advertisers with a highly desirable and difficult-to-reach audience of affluent and influential business professionals. Founded in 1997, Captivate is owned by Generation Partners. For more information, please visit www.captivate.com.