There are Fewer Office Scrooges This Year
The holidays are heating up and this season is set to be merrier and brighter than last year.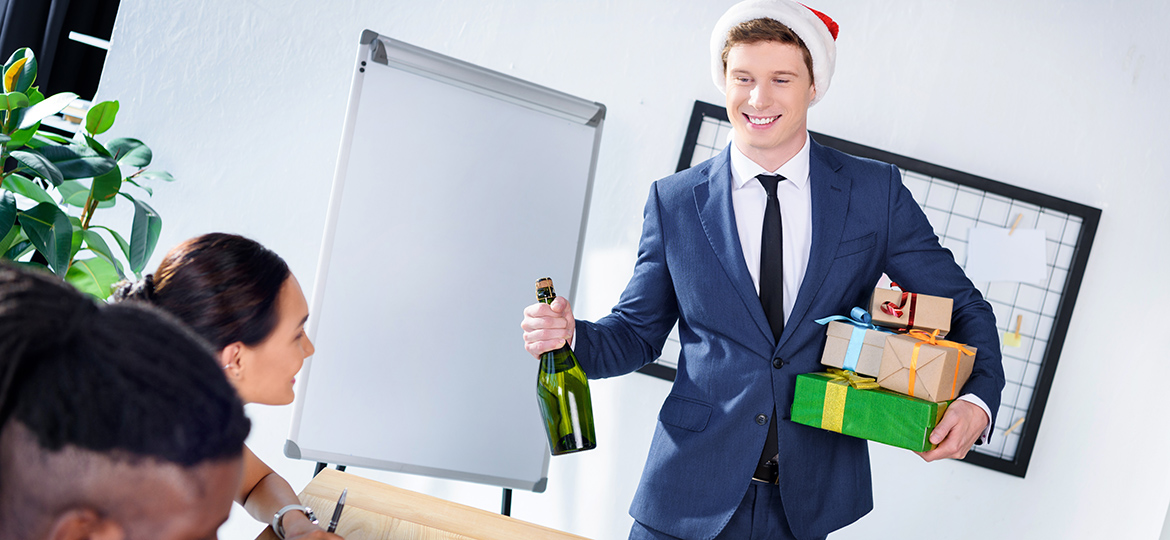 On average, shoppers are expected to spend a little over $1,000 this holiday season, up 4.1% from 2017, according to the National Retail Federation. This increase will also spill into the office space, where workers are more likely than last year to buy gifts for coworkers, bosses and themselves, according to a recent Office Pulse survey of 480 US business professionals.
Tis The Season to Shop … For Yourself
More than half of US business professionals (58%) intend to buy themselves a gift this holiday season, up from 53% last year and 48% in 2016. The self-gifting trend, which has been gaining momentum for years, is a pretty great way to get exactly what you want. Millennials in particular have embraced this new tradition.
I plan to buy myself a gift this holiday season.
They're also more likely to get something on the pricier side: 49% of Millennials will be spending $50 or more on themselves, while just 33% of Baby Boomers will be spending over $50.
Sugar and Spice
Women (59%) are slightly more likely than men (53%) to buy themselves a gift this year. But, they're way more likely to buy gifts for coworkers and bosses.
| | |
| --- | --- |
| Buying gifts for coworkers | |
| | |
| --- | --- |
| Buying a gift for the boss | |
Overall, more business professionals plan to buy gifts for their coworkers this year compared to last year (39% versus 33%).
I plan to buy my coworkers a gift this holiday season.
Not sure how much to shell out on Shelly in Accounting? Don't worry – you don't need to break the bank. Of those buying gifts for coworkers, 76.5% will be spending less than $25.
But, what about your boss? Many etiquette experts recommend not gifting your superior. And while they're the least likely group to receive a gift, a good amount of workers (34%) are still planning to buy their boss a gift this year, up from 30% last year.
I plan to buy my boss a gift this holiday season.
Charity on the Rise
Companies are also encouraging workers to give back. 74% of US business professionals said their office participates in charitable activities during the holiday season, up from 54% last year.
Sneaking in Some Shopping
It's a busy time of year, forcing many workers to spend personal dimes on company time. Nearly 3/4th of US business professionals (74%) plan do some sort of online shopping while at the office this holiday season. Women were much more likely than men to participate in this activity (80% of females vs 62% of males). Junior Managers are the most likely to intend to do some at-work online shopping, with 86% saying so.
Workers Want Wine or Wealth
If you're opting to shop for some coworkers here are a few tips. Alcohol is often a go-to gift around the holidays but be careful about your selection. While it's consistently called out as a great gift to receive by many professionals, it also graced the top of this year's worst gift list, either because it was "cheap" or because the receiver doesn't drink.
If you don't know your coworker well enough to pick out their preferred poison, keep it simple and opt for gift cards or cash (a favorite among workers). Otherwise, you just might make it to the worst gift list.
What's the worst gift you've ever received from a boss or coworker?
"A 6 pack cooler that plugs in to the car lighter."

-Female Baby Boomer
"A giant bag of prunes from Costco."

-Female Baby Boomer
"Bottle of perfume from the dollar store."

-Female Millennial
"Salad bowl."

-Female Baby Boomer
"A vacuum cleaner."

-Female Gen X
For those on the receiving end, there's a slight chance your gift is used. 15% of US business professionals admitted to re-gifting old gifts at the office this year, down significantly from 21% last year and 40% in 2016.
More workers are getting into the holiday spirit this year, so if you want to avoid an awkward one-sided gift exchange you might want to stash a few gift cards at your desk … just to be safe.

About Office Pulse
Office Pulse by Captivate offers marketers timely analysis and insights from a proprietary panel of upscale professionals in the top markets. The Office Pulse panel of more than 8,000 influential consumers and business decision makers includes C-level executives, Millennials, middle management, small business owners, working women and working moms.
About Captivate
Known for its vast network of nearly 12,000 elevator displays located in 1,600 premier office buildings across North America, Captivate connects advertisers with 13 million unique monthly viewers through creative, research-driven and Nielsen-measured advertising and marketing programs. By engaging its viewers with timely news and actionable information that helps balance the personal and professional demands of the workday, Captivate provides advertisers with a highly desirable and difficult-to-reach audience of affluent and influential business professionals. Founded in 1997, Captivate is owned by Generation Partners. For more information, please visit www.captivate.com.