Canadians Are Spreading Holiday Cheer at the Office
The holiday giving spirit is catching among Canadian business professionals. A huge 85% of offices are doing some type of charitable giving, up from 68% in 2017.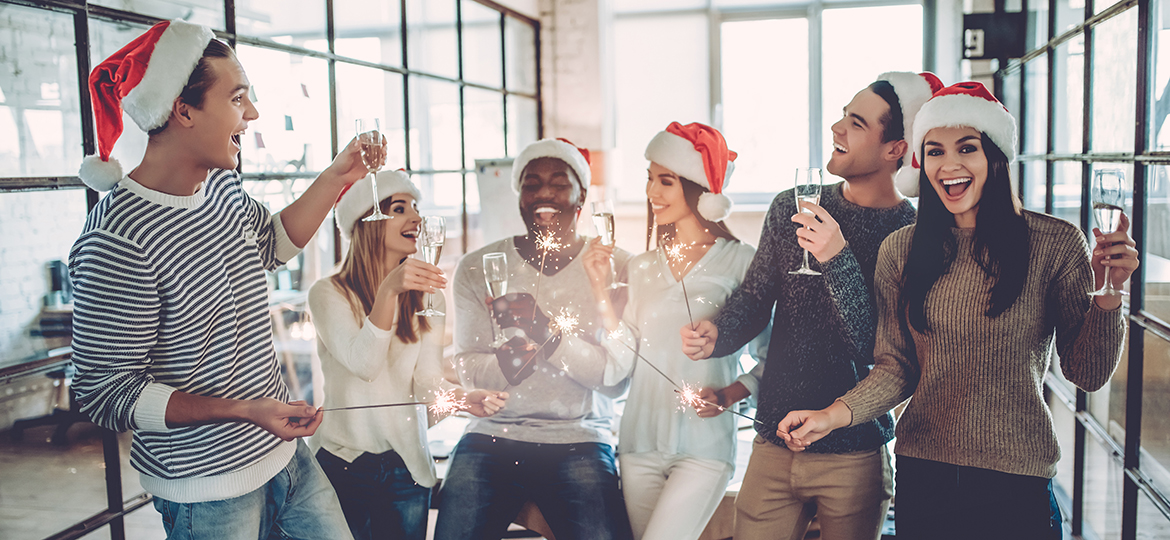 'Tis the season for gift-giving and an Office Pulse survey of Canadian white-collar workers found that giving is on the rise. Though the majority (61%) will still find room in their budget for self-gifting this holiday season, that number has decreased from 68% in 2017 to make way for others. Most offices (85%) are planning on making charitable donations this year – a 17% increase from 2017.
In which charitable activities does your office participate around the holidays?
Ho Ho Hold Off On Saving?
Economic uncertainty hasn't dampened holiday cheer, as Canadians are reportedly spending an average of $1,563 this year, up 3.7% from $1,507 in 2017, according to PwC's holiday outlook. That generosity is also reflected in the workplace, as the percentage of people exchanging gifts is inching up. Some 33% of business professionals plan to bestow their bosses with a little something at year's end (up from 26% last year). A total of 38% will present their co-workers with a gift (up from 27% last year), though the most common price point was under $25 (29%).
Millennials were the most reluctant to share gifts with their co-workers when compared with their older counterparts. This might be correlated with the fact that 58% of Canadian Millennials did not save up for seasonal spending this year, or that a shocking 38% will incur debt from holiday-related purchases.
I plan to buy my coworkers a gift this holiday season.
Good Gifts Only, Please
With nearly two-thirds (64%) of white-collar workers planning to do some holiday shopping from the office this holiday season, it's a wonder any work gets done. Gen. X is the biggest culprit, with 72% admitting to surfing for sales compared to 60% of Millennials and only 40% of Boomers. Finding the perfect gift for co-workers is no easy feat, especially with popular items like alcohol, gift cards and jewelry appearing on Best and Worst lists. People like for their individuality to be acknowledged, and gift-giving is no exception. Be sure to check in about dietary restrictions before buying tasty treats, and rethink that rabbit fur scarf!
What's the worst gift you ever received from a boss or co-worker?
"Homemade lemonade mix"

-Female Baby Boomer
"Girl Guide cookies"

-Female Gen. X
"One kitchen mitt"

-Female Gen. X
"Ice cube trays"

-Male Gen. X
"Dollar store sunglasses"

-Male Millennial
"A used puzzle"

-Female Millennial
No-Work Winter Wonderland
A whopping 90% of business professionals are taking time off in December and, as a result, 72% said their offices were "empty and quiet." Though some might find the leaner staff to be a cause for concern, for 40% of employees that means the month is "less stressful."
How much time do you take off in December?
Other insights include:
21% of business professionals are "re-gifters" in the office

30% of offices plan to host a gift exchange this year

87% of companies allow employees to rollover vacation time, up from 74% in 2017
Though this time of year can be stressful around the office, rest assured that you probably won't be subjected to a re-gifted item this year. Use the peace and quiet at work to finish up that final project of 2018 or to browse online for Boxing Day sales.

About Office Pulse
Office Pulse by Captivate offers marketers timely analysis and insights from a proprietary panel of upscale professionals in the top markets. The Office Pulse panel of more than 8,000 influential consumers and business decision makers includes C-level executives, Millennials, middle management, small business owners, working women and working moms.
About Captivate
Known for its vast network of nearly 12,000 elevator displays located in 1,600 premier office buildings across North America, Captivate connects advertisers with 13 million unique monthly viewers through creative, research-driven and Nielsen-measured advertising and marketing programs. By engaging its viewers with timely news and actionable information that helps balance the personal and professional demands of the workday, Captivate provides advertisers with a highly desirable and difficult-to-reach audience of affluent and influential business professionals. Founded in 1997, Captivate is owned by Generation Partners. For more information, please visit www.captivate.com.