Work Spouse: From Platonic Partnership to Cubicle Courtship
These cubicle confidantes directly lead to workplace happiness, employees say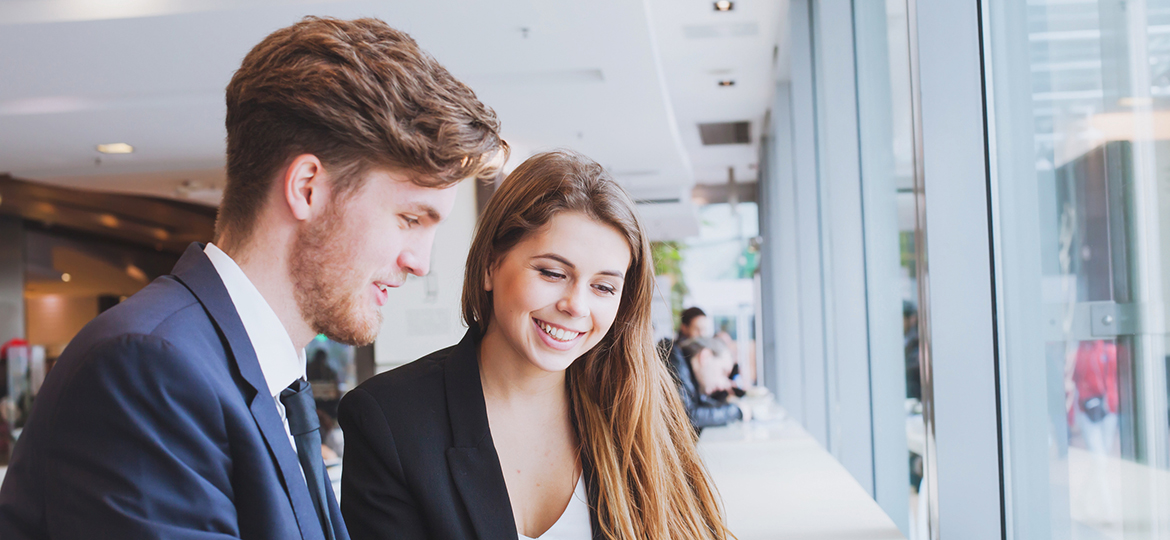 Do you have a colleague who's your "go-to" friend at the office? Someone you can gossip with, confide in and even grab a drink with after work? If so, then you have a work spouse – and you're not alone. You're a part of the vast majority of business professionals who have a special relationship with a colleague, one which can closely resemble a real marriage.
69% of business professionals said that they "currently have" or "have had" a work spouse, according to an Office Pulse study of 400 white-collar workers. That number is in line with last year, but up from 65% in 2010 and 32% in 2006.
Work spouse relationships are especially popular among Millennial professionals; 74% said they "currently have" or "have had" a work spouse, followed by 69% of Baby Boomers and 62% of Gen Xers.
Do you have a work spouse?
Work Spouses that Stay Together, Succeed Together
While work spouses can offer a much-needed distraction from the monotony of work, there's evidence that the benefits have a significant impact on employee well-being. Over half (53%) of business professionals said having a work spouse directly contributes to their happiness in the workplace. This was particularly true for Millennials: Two-thirds (67%) said a work spouse relationship contributes to their happiness. In a time when employers try to maintain an edge with top perks in an effort to keep employees happy and retain top talent, they may have to look no further than their own recruiting process. Having the right people could lead to the next work spouse relationship – and from that, a happier and engaged workforce.
What sets a work spouse apart from a work friend?
"Closer relationship, tend to be more like each other, willingness to argue constructively, sense that you cannot offend them – they will always understand why you are doing things the way you are."
– Female, senior manager
"It's a relationship built on communication and trust. It's not just a casual workmate. Workmates can be friends, but you only chat with them in the break room or common areas and you rarely share intimate details about your life or about work. Your work spouse and you share a lot of confidential and personal info regarding work and personal life. "
– Female, professional
"It's a noncompetitive, collaborative relationship; based upon work values, values of friendship, and mutual interests. We both have significant others already; it's not a physical relationship. It's all based on stuff our [significant others] don't know about and/or don't care about."
– Female, professional
"The ability to talk to them about personal stuff and confide in them and have fun."– Male, middle manager
"Mine was my boss. I could finish his sentences before he did. Anticipated his work needs (changes he was going to likely make). Nothing inappropriate – you just work so closely together that you know each other very well"
– Female, administrator

"Someone you trust more than a friend and a go to for all your workday dilemmas."– Male, professional
Cubicle comradery influences more than just workplace happiness – that bond drives professionals to be champions of their work spouse's success. In fact, 35% of white-collar workers have done something to make their work spouse look better in their manager's eyes. And when their work spouse is in a tight spot, professionals have got their back; 23% have done their work for them, and 19% have made an excuse for them (i.e. "They're sick").
The sense of teamwork between cubical confidantes may be attributed to the fact that most work spouses are in the same department, and even report to the same boss.
Is your work spouse your …
Peer, in my department:
54%
Peer, in another department:
30%
Direct report/my manager:
9%
Senior level executive:
5%
Canoodling Colleagues  
When looking specifically at co-workers, not just work spouses, about 1 in 8 (13%) white-collar workers has dated a colleague. When breaking it out by generation, Millennials (11%) were the least likely to have dated a co-worker, compared to 14% of Gen Xers and 15% of Baby Boomers. And not all of these office romances are casual flings, either: 35% of professionals who have dated a co-worker said that they're still together. Close to 1 in 5 (19%) said their work relationship ended in marriage.
Other insights include:
74% of male business professionals tend to have females as their work spouse
25% (1 in 4) mentioned that their real spouse and work spouse are friends
8% have had an interaction with their work spouse they later regretted
6% said their real spouse is "jealous" of their work spouse
Unfortunately, it's not always a happy ending for all office love birds. 8% of white-collar workers who've had an office romance said it didn't end on good terms, and 4% said someone in the relationship had to leave their job because of it. Dating a co-worker can have consequences that extend beyond the office doors, too. 13% of workers said their relationship at work ruined a marriage.
Office dating is tricky enough, but work spouse relationships can especially veer into questionable territory. Given the intimate nature of work spouse relationships, the blurred lines between colleague and couple can make boundaries unclear – at least for some professionals. 5% admitted that they've "crossed the line" with their work spouse. That number rose to 9% when looking at male professionals.
The surge in sexual misconduct allegations following the Harvey Weinstein scandal has further complicated office dating. 33% of business professionals said the current sexual abuse headlines make them hesitant to engage in an office romance.
Attached at the Hip
More professionals are pursuing a healthier work-life balance, and as a result, work spouse relationships are flourishing. As the work week increasingly becomes more fluid, the 40-hour-a-week cubicle routine is no longer the status quo. Work relationships are similarly expanding outside of the office: 56% of professionals said they've done something with their work spouse outside of the office. When breaking down the amount of time spent together outside of work, 12% said they try and do something with their work spouse once a week. An additional 23% try to do something at least once a month, and 21% make an attempt to hang out at a quarterly minimum.
While most workers (78%) said they'll either grab lunch or a drink with their work spouse outside of the office, others tend to make things more personal. 10% said they work out with their work spouse, 6% said they'll try and catch a movie. 5% of workers are so close with their office spouse that they'll even plan a vacation with them.
Which of the following do you discuss with your work spouse?
Work spouses make the perfect team: "Jim and Pam," Jack and Liz," "Benson and Stabler." These TV work spouses show that the relationships we form at work can help you grow as a person. Chances are you have a pair of characters like this in your office. They probably liven it up, help make the day go by and make you a little happier. Just for those reasons, they're worth it.
About Office Pulse
Office Pulse by Captivate offers marketers timely analysis and insights from a proprietary panel of upscale professionals in the top markets. The Office Pulse panel of more than 8,000 influential consumers and business decision makers includes C-level executives, Millennials, middle management, small business owners, working women and working moms.
About Captivate
Known for its vast network of nearly 12,000 elevator displays located in 1,600 premier office buildings across North America, Captivate connects advertisers with 13 million unique monthly viewers through creative, research-driven and Nielsen-measured advertising and marketing programs. By engaging its viewers with timely news and actionable information that helps balance the personal and professional demands of the workday, Captivate provides advertisers with a highly desirable and difficult-to-reach audience of affluent and influential business professionals. Founded in 1997, Captivate is owned by Generation Partners. For more information, please visit www.captivate.com.