Your Office is Probably Making You Sick
A majority of business professionals are coming to work while sick, infecting their colleagues and office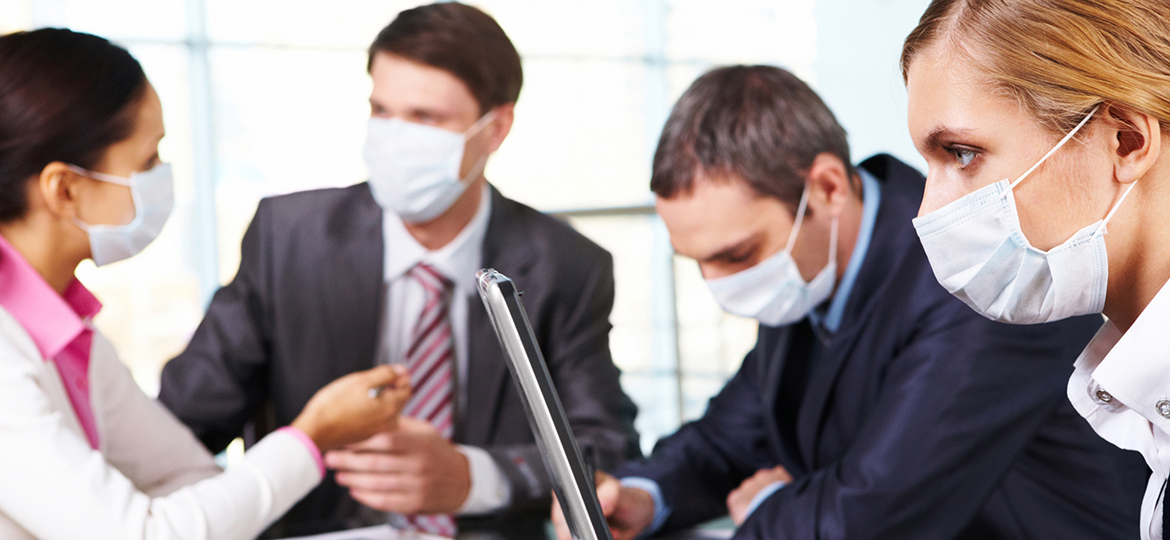 Employees are continuing to ignore their symptoms when they're sick, coming into work so they don't fall behind on daily tasks. As cold and flu season approaches, this could become a major problem, with a large amount of business professionals infecting the workplace.
Overall, 86% of business professionals said they at least 'sometimes' go into the office when sick, up slightly from last year, according to an Office Pulse study of 1,228 white-collar workers.
When looking at job title, senior executives (64%) were most likely to work when sick, compared to senior managers (46%), middle managers (48%) and junior managers (38%).
Keep in mind, not everyone is coming into the office. Flexible work policies make it easier for employees to work from home and a good portion are utilizing this option when they're feeling under the weather. While 49% said they're most likely to suck it up and go to the office when they feel sick, 1 in 3 (34%) opt to work from home – most likely in the comfort of their pajamas.
Do you go to the office when you feel sick?
| | |
| --- | --- |
| Male Professionals | Female Professionals |
Stressed, Stubborn or Selfish
Most workers are stubborn, saying their symptoms must be 'severe' (i.e. fever, chills) for them to call out of the office. Why are they pushing themselves and jeopardizing their health? Basically, because they're swamped: 50% of business professionals cited the fact that they 'need to get stuff done' and they 'don't want to fall behind' as their main reason for working when sick. More selfishly, 25% said they don't want to lose their time off if they can work through their illness. 10% said their boss expects them to work when they're sick.
This dedication to their work might pay off for them in the short term, but it's ultimately impacting their coworkers down the road. Most business professionals (76%) said that they caught a cold at work. Of them, 68% directly blame their sick coworkers that come into the office, spreading their germs.
In fact, more than 1 in 3 white-collar workers said there's usually a sick coworker in the office a couple times a week, and they're not happy about it. 29% view coworkers who come into work when sick as 'selfish.' Another 25% call them 'stupid.'
The CDC says people with the flu can spread it to others up to six feet away. With many workplaces shifting toward open office concepts, this could result in a melting pot of germs and bacteria that can spread easily.
What would you do to prevent a sick coworker from coming into work?
Sit through a useless 2-hour meeting:
46%
Give up my own sick/vacation day:
23%
Give up checking social media for a day:
21%
 
ER or HR?
Workers who say their office offers the flu shot:
With health and workplace safety being a main priority for so many businesses, you'd think workplaces would stock up on extra items during cold and flu season.
But, that doesn't seem to be the case. 57% of professionals said their office does not stock up on extra health supplies (such as OTC medicines, hand sanitizer, tissues) during cold and flu season. With that, 68% said they wished their office would keep a stash of items to help combat the spreading of germs.
A separate study found that implementing a 'wash, wipe, sanitize' protocol at work reduces the probability of catching the flu or a cold by 80%.
How severe do your symptoms have to be for you to call out sick from work?
Mild

(Groggy, headache)
Medium

(Stuffy nose,
sore throat)
Severe

(Fever, chills)
On average, 5%-20% of the population gets the flu, resulting in an estimated $10.4B a year in direct medical expenses, according to the CDC. So, pipe up when your coworker's sniffles act up and ask your boss to reiterate the company's sick policy.
About Office Pulse
Office Pulse by Captivate offers marketers timely analysis and insights from a proprietary panel of upscale professionals in the top markets. The Office Pulse panel of more than 8,000 influential consumers and business decision makers includes C-level executives, Millennials, middle management, small business owners, working women and working moms.
About Captivate
Known for its vast network of nearly 12,000 elevator displays located in 1,600 premier office buildings across North America, Captivate connects advertisers with 13 million unique monthly viewers through creative, research-driven and Nielsen-measured advertising and marketing programs. By engaging its viewers with timely news and actionable information that helps balance the personal and professional demands of the workday, Captivate provides advertisers with a highly desirable and difficult-to-reach audience of affluent and influential business professionals. Founded in 1997, Captivate is owned by Generation Partners. For more information, please visit www.captivate.com.