Politics Permeate the Workplace
1 in 3

have seen co-workers fight over politics, new study finds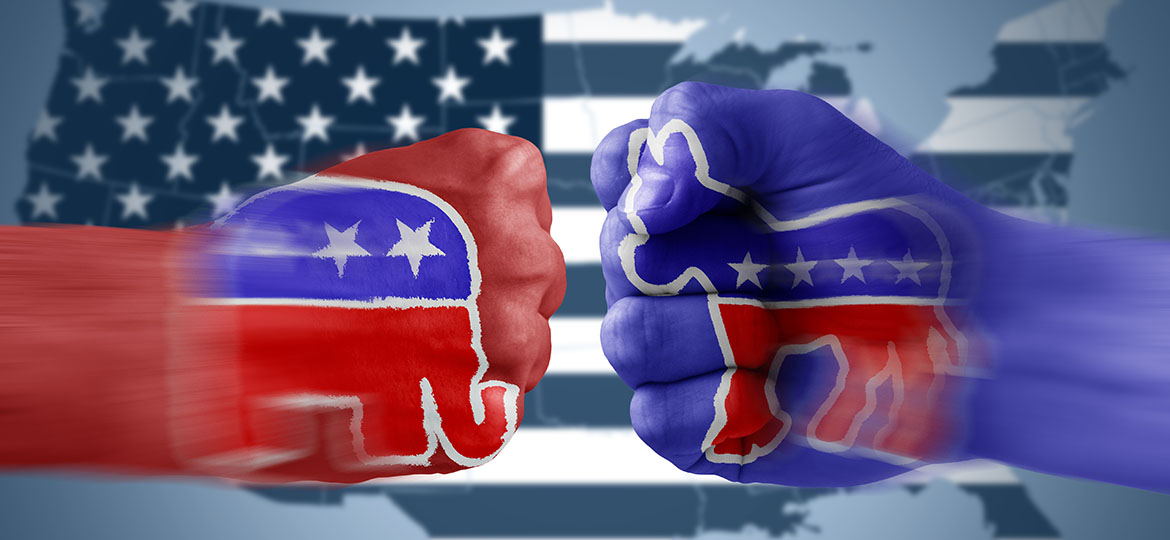 Not even a global pandemic could temper a political divide among Americans, and those partisan politics are leaking into the workplace. Workers have seen a heated argument over politics between colleagues, faked interest in a political viewpoint to avoid confrontation at work and are overall discussing politics more while on the clock, a new study found.  
Nearly a third (31%) of business professionals said they've witnessed a "heated argument" over politics and/or differing political views between two co–workers, an Office Pulse survey of white-collar workers found. Another 14% said they've seen such heated discussions specifically surrounding the 2020 presidential election. There was a stark contrast between genders and job level when witnessing these social scrums. 
Have you witnessed a heated argument with a colleague over differing political views?
While conventional wisdom suggests keeping political talk out of the workplace, ramped-up division and the pandemic mean someone's sure to reach their boiling point.
Talking Points 
Whether they're heated head-to-heads or chill chats, some are actually talking about politics more than they did during the last election cycle. In fact, 1 in 5 workers said they're discussing the presidential election "more" with their co–workers than they did four years ago.  
And these aren't one-offs – 20% said they were doing so at least "regularly."  
The discussions aren't welcomed by all. Coinbase CEO Brian Armstrong officially discouraged political discussions at work – even going so far as to offer severance packages to those who disagree. Specifically, Armstrong said that the company "won't debate causes or political candidates internally."  
And while some may be thinking that's a good idea, take heed: LinkedIn found Millennials want to work for a company that has similar values to their own. 
While some workers are willing to put up a fight, others just want to avoid the drama. 26% of workers have agreed with a co–worker or client about a political view that isn't their own to avoid confrontation.
Other insights include:
1 in 10 have personally gotten into a "heated debate" over politics/differing political views with a co–worker. Another 6% have done so specifically about the 2020 presidential election 

30% are discussing the presidential election less today than they did four years ago. The reasons? It's "too divisive" (41%) and "too depressing" (39%). 
While some may see all these differing outlooks as division, it's important to remember there is a way to do it without getting personal – even contentious conversations can be productive and healthy. Sometimes, listening could be your biggest asset.
About Office Pulse
Office Pulse by Captivate offers marketers timely analysis and insights from a proprietary panel of upscale professionals in the top markets. The Office Pulse panel of more than 8,000 influential consumers and business decision makers includes C-level executives, Millennials, middle management, small business owners, working women and working moms.
About Captivate
Known for its vast network of nearly 12,000 elevator displays located in 1,600 premier office buildings across North America, Captivate connects advertisers with 13 million unique monthly viewers through creative, research-driven and Nielsen-measured advertising and marketing programs. By engaging its viewers with timely news and actionable information that helps balance the personal and professional demands of the workday, Captivate provides advertisers with a highly desirable and difficult-to-reach audience of affluent and influential business professionals. Founded in 1997, Captivate is owned by Generation Partners. For more information, please visit www.captivate.com.