Hotels, Get Ready: People Are Coming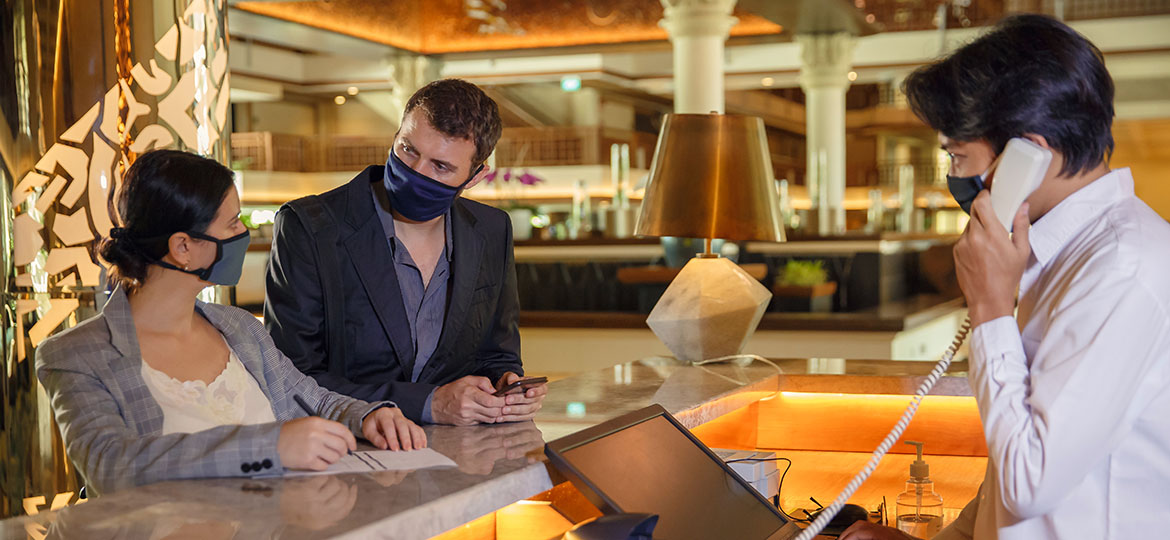 More people are starting to travel as they get comfortable with navigating the new normal. In fact, the number of people passing through airport checkpoints recently hit its highest level since mid-March. And while the number of people flying may not be at pre-pandemic levels, a new Office Pulse study found people are still planning to check in to hotels for vacations, staycations or simply to escape the monotony of their homes.
Looking ahead, 37% of people plan to book or stay at a hotel between now and the upcoming holiday season, according to the Office Pulse study of white-collar workers across the US and Canada. And while reasons vary, there's no denying most are looking for a little "me time." Vacationers brave enough to board a plane slightly edged out local explorers.
When are you likely to book or stay in a hotel?
In less than 29 days: 14%
So, you're booking a hotel during COVID. Why?
With more people traveling and vacationing during the pandemic, hotels will need to adapt and focus on keeping their customers and staff safe. Below are four quick and easy adjustments that could be made for your hotel.
SOLICITING CLIENTS 
Since the COVID-19 pandemic began, nearly twice as many people have stayed at a hotel compared to those who have flown, confirming local tourism is alive and well. Hotel managers should consider a potential new customer base by targeting their neighbors as people look for quick getaways throughout the pandemic.
ENTERING THE HOTEL 
Consider what your lobby will look like to a fresh set of eyes as they navigate travel post-lockdown. Is it cluttered? Does the layout allow for proper social distancing measures? Gensler says simplicity in design can promote the perception of cleanliness and ease the mindset of guests. Think about where things are placed and how that can create a clean feeling.
CHECKING IN 
While check-in remains a crucial part of the hotel experience, it could use a makeover. Consider mobile check-in to limit face-to-face contact. Failing that, clear plastic partitions enhance safety for you and your guests. Finally, temperature checks help provide peace of mind that your guests are in good health. Achieve this without putting your staff at risk with CaptivateScan, a portable all-in-one display that features a body temperature scanner, face mask detection and hand sanitizer dispenser.
Your guests will thank you. 70% of survey respondents said mask mandates would make them feel "safer and more comfortable" when visiting a hotel. More than half (56%) would feel better with temperature scans at check-in.
CLIENT EXPERIENCE

 
It's important to clearly communicate changes you've made during the pandemic, such as adding additional sanitizing stations or limiting occupancy in common areas. Additionally, educate your guests on what's important to you during the pandemic. Wearing a mask? Frequently washing hands? Wiping down surfaces after use? Diligently communicating rules and regulations you have set in place will be key to keeping your guests and staff safe. It will also help your guests feel more comfortable and put their minds at ease. In fact, nearly half (47%) of travelers said this kind of messaging and communication would make them feel "safer and more comfortable" when staying at a hotel.
You'll also want to communicate what's going on in your area. Since the early days of the pandemic, it has been clear that the situation can vary greatly from city to city. Accessible local and national news will keep your guests informed and is a feature 42% of travelers said they're looking for out of their hotel.
An easy and effective way hotels can do this is with Captivate, a modern, sleek tool that combines live news curated from over 150 sources with property messaging that can ensure high readership across multiple venues.
Other insights include:
More than 1 in 3 people said they "miss" going to hotels, a sign that people are looking for an escape

About 1 in 5 said they currently feel safe visiting a hotel. That's more than gyms (12%) or movie theaters (11%)

44% said COVID-19 testing prior to entry would make them feel safer and more comfortable when visiting
There's no denying that travel looks different these days, but with a few tweaks and technological advances, hospitality can persevere without sacrificing safety.
About Office Pulse
Office Pulse by Captivate offers marketers timely analysis and insights from a proprietary panel of upscale professionals in the top markets. The Office Pulse panel of more than 8,000 influential consumers and business decision makers includes C-level executives, Millennials, middle management, small business owners, working women and working moms.
About Captivate
Known for its vast network of nearly 12,000 elevator displays located in 1,600 premier office buildings across North America, Captivate connects advertisers with 13 million unique monthly viewers through creative, research-driven and Nielsen-measured advertising and marketing programs. By engaging its viewers with timely news and actionable information that helps balance the personal and professional demands of the workday, Captivate provides advertisers with a highly desirable and difficult-to-reach audience of affluent and influential business professionals. Founded in 1997, Captivate is owned by Generation Partners. For more information, please visit www.captivate.com.