March Madness to Hit Workplace Productivity
Workers admit they've missed meetings, deadlines due to distractions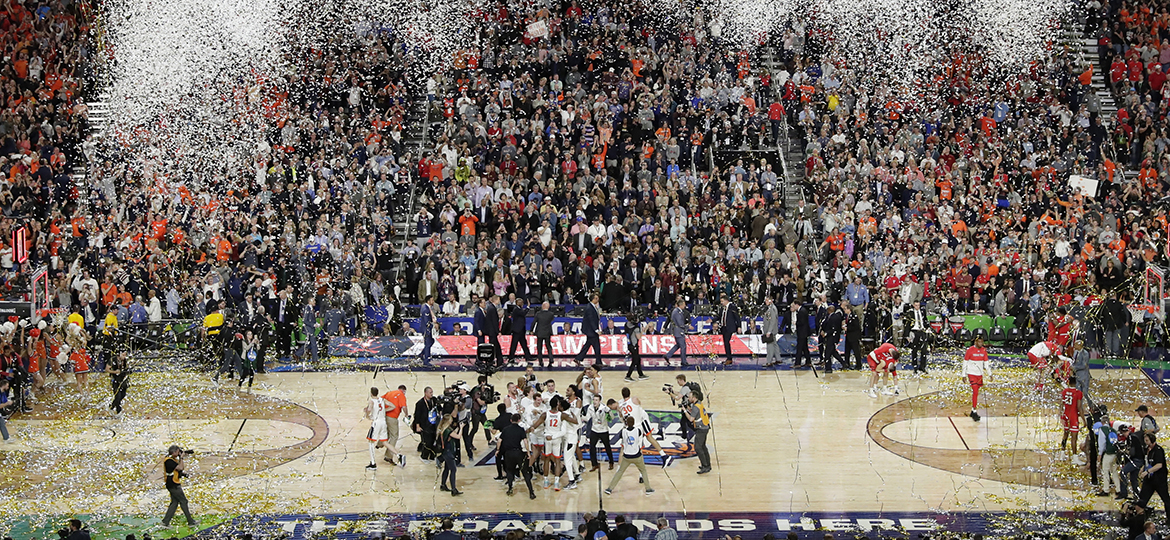 While you might have high hopes for productivity this month, the NCAA college basketball tournament might block your shot as it leaks into workplaces across the US.
In total, more than 1 in 4 business professionals (26%) plan to watch the March Madness tournament during business hours, an Office Pulse study of 695 white-collar workers across the US found. That number rose to nearly 1 in 3 when looking at male workers.
Of those who are watching the tournament during the workday, 66% are watching for over an hour.
About how much time will you spend a day watching the games at work?
Less than 30 minutes:
11%
March Madness Meeting Misses
All this basketball viewing is going to cost businesses over $627M in lost productivity over the course of the tournament. What's more surprising, though, is how the tournament impacts employees. Among those who are watching March Madness games during the workday, 75% have been impacted with their workday activities, with 40% missing a meeting.
While watching the March Madness tournament at work, I …
Zoned out on a call/meeting
Managing March Madness Morale
Surprisingly, despite admitted tournament interference and the hit to workplace productivity, most employees seem to have a positive outlook on how the games impact their business. Over a quarter (28%) of workers said the hype the tournament builds around their office helps "boost morale." An additional 1 in 5 (21%) said the 67-game tournament gives them something to bond with their colleagues over that isn't work related.
Managers don't seem to mind the mania that comes with the tournament, either. When asked specifically if they allow their team members to watch or take part in March Madness viewing while at work, 62% of managers said yes, they "embrace it." A disgruntled 38% said no, calling it "too much of a distraction."
Bracket Business
All that bonding comes to fruition when it's time to fill out a bracket. Over half (55%) of workers said they'll fill out a tournament bracket with their coworkers – even if they're not watching the games. That number spiked when looking at men (70%), Millennials (75%) and senior managers (77%).
Male managers are more likely to allow their teams to watch March Madness while female managers are less likely (67% vs. 43%)

8% of employees said they'll watch the games secretly during the workday (schedule fake meeting, under their desk, etc.). That number rose to 14% when looking at male workers

50% of male workers have missed a meeting because they were watching the tournament

39% of those who are a senior manager or higher said the hype the tournament builds around their office boosts morale
The 2020 NCAA college basketball tournament tips off Tuesday, March 17.
About Office Pulse
Office Pulse by Captivate offers marketers timely analysis and insights from a proprietary panel of upscale professionals in the top markets. The Office Pulse panel of more than 8,000 influential consumers and business decision makers includes C-level executives, Millennials, middle management, small business owners, working women and working moms.
About Captivate
Known for its vast network of nearly 12,000 elevator displays located in 1,600 premier office buildings across North America, Captivate connects advertisers with 13 million unique monthly viewers through creative, research-driven and Nielsen-measured advertising and marketing programs. By engaging its viewers with timely news and actionable information that helps balance the personal and professional demands of the workday, Captivate provides advertisers with a highly desirable and difficult-to-reach audience of affluent and influential business professionals. Founded in 1997, Captivate is owned by Generation Partners. For more information, please visit www.captivate.com.