Professionals Are Suiting Up For Flu Season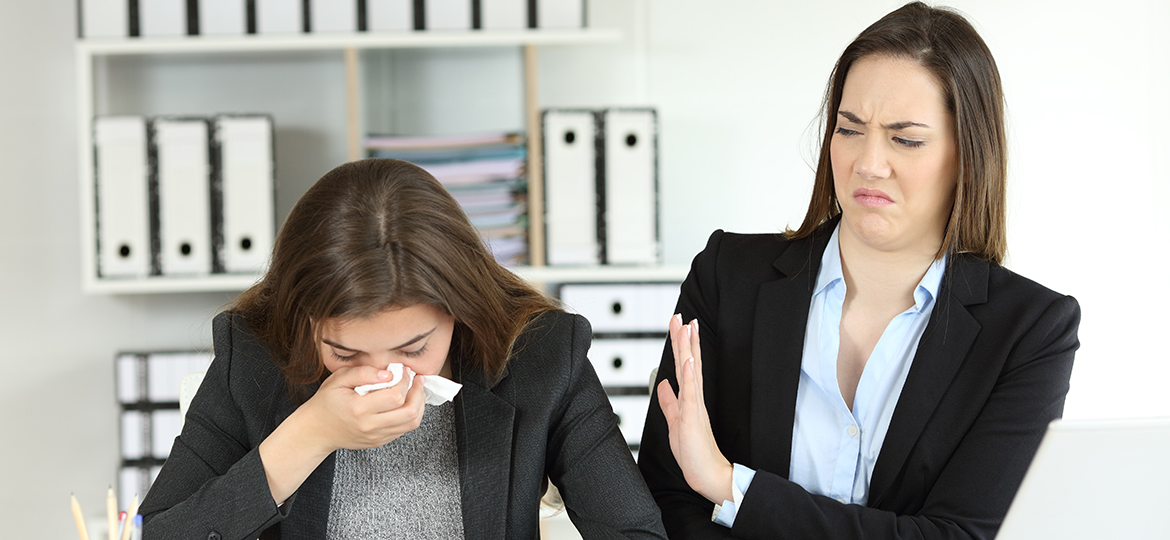 From the first audible sniffle or cough, the office can seem like a bacteria battleground. While some work from home to dodge germs, others fortify their desks with boxes of tissues and bottles of hand sanitizer. Despite these efforts, nearly 8 out of 10 business professionals claim to have caught a cold at work, according to a new Office Pulse survey of 616 North American workers. Those in larger offices were much more likely to report catching a cold at work, as more bodies mean more opportunities to set off a chain of sniffles at surrounding desks.
100%

of people who work at a company with over 100 employees said they've caught a cold at work, while just 73% of people working with fewer than 50 people said they have.
And it's not just office size that can put you at risk of getting sick – where you sit also makes a difference. While the safety of four closed walls can keep out germs, those working in an open floor plan were especially vulnerable.
Have you caught a cold at work? (by type of workspace)
All that illness can lead to lost productivity. People working in an open floor plan office missed the most days due to sickness by far – 3.3, compared with an average of 2.8 days per year.
Braving The Boardroom
Across all demographics, 76% of workers cop to going into the office when they're sick. Those found to be slightly more likely to brave the boardroom with a cold were Gen Xers (77%) and people working in law or finance, insurance and accounting (both 79%).
How severe do your symptoms have to be for you to miss work? (%)
Of course, the severity of symptoms plays a role. While most workers of any generation said only "severe" symptoms like a fever or chills would sideline them, Baby Boomers were found to be the most likely to skip for "mild" symptoms like grogginess, a headache or an achy body, with 7% compared to 5% of Millennials and 6% of Gen X.
Ultimately, while most professionals are working while they're under the weather, there comes time when everyone needs to take a day. On average, workers use up to 2.8 sick days per year. Boomers took the fewest days off, with 2.1, while Millennials and women of any generation missed the most days, with an average of 3.
Calling Out The Cold-Ridden
Though some are determined to suck it up, it's safe to say no one wants to get sick – which can result in hostility toward germ-carting coworkers. A whopping 72% of women who have caught a cold at the office say they blame their coworkers, along with 57% of men in the same situation. While some may grin and bear it, others are more vocal when they feel someone should stay home. Some 49% of women and 39% of men said they have called out their coworkers for coming in sick.
Sick With Worry
The impulse to come in sick doesn't necessarily come from the top. When asked if their office encourages people to work from home or take a day when they're sick, 27% said "no, they want us at our desks as much as possible." Of those advised by their bosses to stay home, 44% said "they don't want our germs in the office," while 30% said "they want us to rest and heal."
With relatively low pressure from the top brass, what is it that compels workers to skip a day of lounging in a pile of blankets in favor of coughing through a conference call or sniffling over sales reports? Fear of falling behind topped the list, with 43% of professionals saying "I need to get stuff done." Another 26% were looking to preserve precious vacation days, saying they'd rather work through their illness than lose their time off.
Other Insights
49% of people in offices of over 100 people will call out their coworkers for coming in sick, compared with 38% of people in offices with 50 people or less.

New York and Chicago workers are the most hardcore, with 75% of their employees only calling in sick if they have severe symptoms.

50% of people have called in sick but ended up working from home anyway. Another 10% called in sick but ended up coming in to the office.

33% say the germiest place in the office is the front door handle, followed by the copier buttons (17%) and the breakroom sponge (14%).
An Ounce of Prevention
For those determined to keep working, staying healthy is the name of the game – and 48% of workers say they are willing to go the extra mile by changing their habits to dodge germs.
Do you change your habits at work when others are sick?
I've worked from another spot in the office
I've skipped a meeting in a conference room
I've stayed home from work to avoid germs
A well-stocked desk can also go a long way in the fight against germs. Among items people keep at hand during cold and flu season, tissues were most popular (66%), followed by hand sanitizer (55%), disinfectant wipes (43%) and medicine (28%).
The CDC recommends that you get a flu vaccine by the end of October. So, if you're surrounded by sniffles and sneezes at work, you might want to schedule some time to get your flu shot.
And if you're a workaholic who doesn't get waylaid by a common cold, you might want to reconsider the comfort of your couch to avoid the wrath of your comrades.
About Office Pulse
Office Pulse by Captivate offers marketers timely analysis and insights from a proprietary panel of upscale professionals in the top markets. The Office Pulse panel of more than 8,000 influential consumers and business decision makers includes C-level executives, Millennials, middle management, small business owners, working women and working moms.
About Captivate
Known for its vast network of nearly 12,000 elevator displays located in 1,600 premier office buildings across North America, Captivate connects advertisers with 13 million unique monthly viewers through creative, research-driven and Nielsen-measured advertising and marketing programs. By engaging its viewers with timely news and actionable information that helps balance the personal and professional demands of the workday, Captivate provides advertisers with a highly desirable and difficult-to-reach audience of affluent and influential business professionals. Founded in 1997, Captivate is owned by Generation Partners. For more information, please visit www.captivate.com.