There's No Place Like Work For The Holidays
Companies will save $1.4B with employees working over the holidays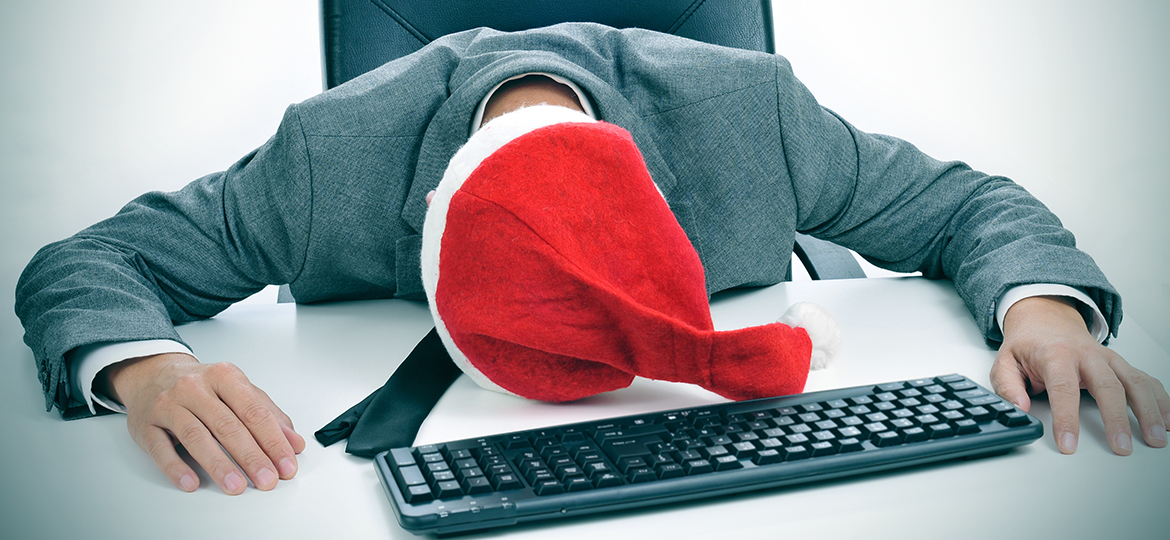 B
usiness professionals have a hard time removing themselves from their careers during the holidays, with many staying at the office, losing vacation time or working remotely.
In fact, 37% said they planned to do some sort of work on Thanksgiving Day, Christmas Day and/or New Year's Day, an Office Pulse study of 1,200+ white-collar working professionals found. Of those professionals planning to work during their holiday, 1 in 3 (32%) will get a head start on big projects for their company, while an additional 61% just plan to answer 'a couple' of emails. Only 7% will actually be in the office.
The percentage of professionals who will work over the holidays, based on job-role:
As a result of all this extra work, employers can expect a $1.4 billion gain in productivity.
Those findings are in line with a similar 2015 study. Last year, Office Pulse found the same amount of business professionals (37%) would be doing 'some sort' of work during Thanksgiving, Christmas and/or New Year's Day.
This year, male professionals were more likely to work over the holidays compared to female business professionals (44% vs. 31%).
Compared to other management groups, C-level executives were the most likely out of all management groups (79%) to do some sort of work on a holiday.
Business professionals are workaholics
Not only are people working during the holidays, they're also losing personal vacation time this year. As the year winds down, more than a quarter of survey respondents (27%) said they will end up losing vacation time, up slightly from 22% last year.
Out of all management groups, C-level executives were most likely to lose their vacation time this year (68%).
An empty and quiet office
62% of senior managers said they'll work on Thanksgiving, Christmas and/or New Year's Day

42% of professionals take 1 week off in the month of December

More male professionals will lose vacation time than female professionals (34% vs. 21%)
What to do in the week between Christmas and New Year's seems to be a debate among business professionals. Some love those days; they value it as quiet time to get some much-needed work done. However, others see it as a challenge to get stuff done because there are so many that are not in the office.
In all, the majority (46%) say that their office is "empty and quiet" during the week leading up to New Year's, which they view as a "waste of time" because no one else is in. Separately, 34% said they "get so much done" between Christmas and New Year's because of the lack of coworkers around them. 6% said their office is closed during that week.
New Year's Resolution
The New Year signals a fresh start for the 73% who plan to make some sort of resolution for 2017. By a landslide, the most popular thing professionals said they'd focus on in the new year would be their health and fitness (35%).
Surprisingly, most white-collar workers didn't plan on making a New Year's resolution that focused on their career. Just 7% said making some sort of change or adjustment to their career was a resolution in 2017.
Hopefully, these resolutions stick, since 18% of resolutions typically don't make it past the first day.
How long does your New Year's resolution typically last?

Don't make it past the 1st day:

18%

Baby Boomers were the least likely age group among professionals to not make a New Year's resolution. The percent of Boomers that won't make a resolution:
About Office Pulse
Office Pulse by Captivate offers marketers timely analysis and insights from a proprietary panel of upscale professionals in the top markets. The Office Pulse panel of more than 8,000 influential consumers and business decision makers includes C-level executives, Millennials, middle management, small business owners, working women and working moms.
About Captivate
Known for its vast network of nearly 12,000 elevator displays located in 1,600 premier office buildings across North America, Captivate connects advertisers with 13 million unique monthly viewers through creative, research-driven and Nielsen-measured advertising and marketing programs. By engaging its viewers with timely news and actionable information that helps balance the personal and professional demands of the workday, Captivate provides advertisers with a highly desirable and difficult-to-reach audience of affluent and influential business professionals. Founded in 1997, Captivate is owned by Generation Partners. For more information, please visit www.captivate.com.